Jeff is committed to delivering exceptional Solar Panel Cleaning Services to enable his clients to get the most out of their investment in renewable energy.
Why do solar panels need cleaning?
Solar panels can get soiled very quickly from dirt, dust, pollen, pollution, trees, and bird droppings which may reduce the energy production of your system. If your solar panels are tilted then rain will take some of the dirt away, but sticky substances are likely to adhere to the surface of the solar panel. A regular scrub with soap will help to keep them functioning efficiently.
How often should solar panels be cleaned?
There is no hard and fast rule about how often solar panels should be cleaned. Their position on the rooftop will expose them to different elements which affects the cleaning routine. For instance, if you have a TV antenna above the solar panels then you may find that bird droppings are a real problem and the panels need to be cleaned more regularly. Starting with a regular cleaning schedule of once a year enables solar panels to be cleaned and provides an opportunity for a maintenance inspection as well.
Rooftop solar panel cleaning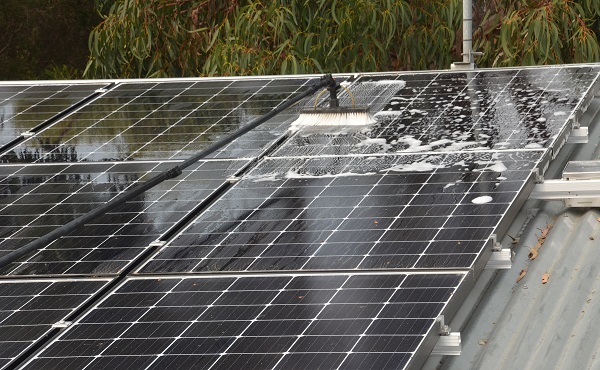 Cleaning solar panels on the roof can be quite a difficult and dangerous job, but Jeff has the tools to enable this task to be undertaken safely and efficiently. He uses a waterfed extension pole with a soft brush and soap to remove the dirt and grime build up on rooftop solar panels.
Discount Rates for Regular Clients
10% off for 2 cleans per year
15% off for 3 cleans per year
20% off for 4 cleans per year
Referral Program
15% off if Your Referral uses Jeff's Services for a Solar Panel or Full House Window Clean
For enquiries or to organise a free quote CALL or TEXT Jeff on
0478 002 276
Lichen is a real problem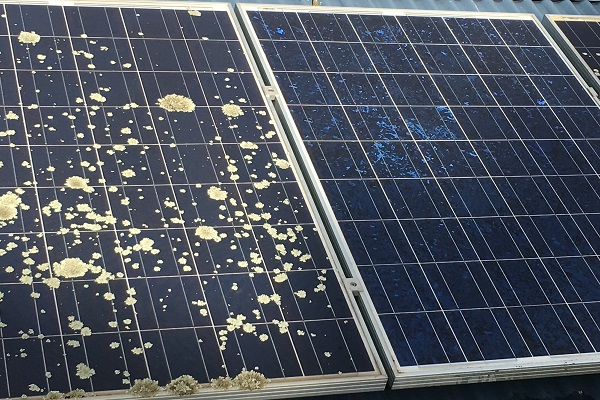 Lichen bonds strongly to the glass with tiny tendrils and in order to ensure it is eliminated Jeff scrapes the lichen off the glass with a stainless steel blade. This can be a time consuming process but is necessary to stop the growth of the lichen. The cleaned solar panel will be much more solar efficient when producing electricity from the sunlight.
Damaged solar panels
A regular solar panel system clean can not only help you improve the efficiency of your solar system, but it also provides an opportunity to see if any of the panels has been damaged. If Jeff finds that your panel has been damaged in some way he will take a picture of the damage and show it to you so that you are aware of the problem. He has found pockmarks and cracks on solar panels that have been hit by a stone, and sometimes a stone will shatter a solar panel if it has been hit at the edge.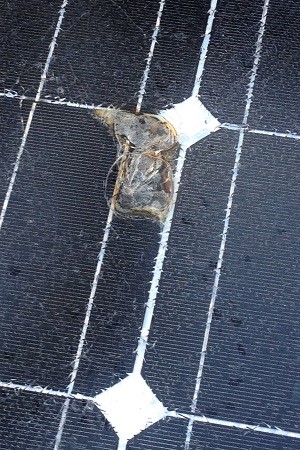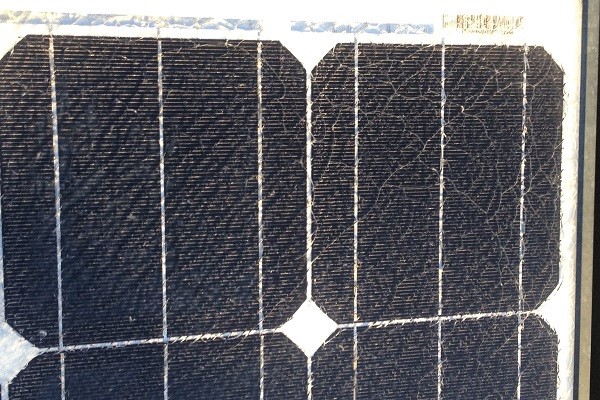 Bird Pest Control
Birds find the space underneath your solar panels is protected from the elements, the wind, rain and sun – a perfect place to shelter and build a nest. Jeff's Bird Proofing Service provides solutions that stop birds from getting under the solar panels on your roof and creating a mess. Solar panel bird deterrent mesh is a great solution to this problem.